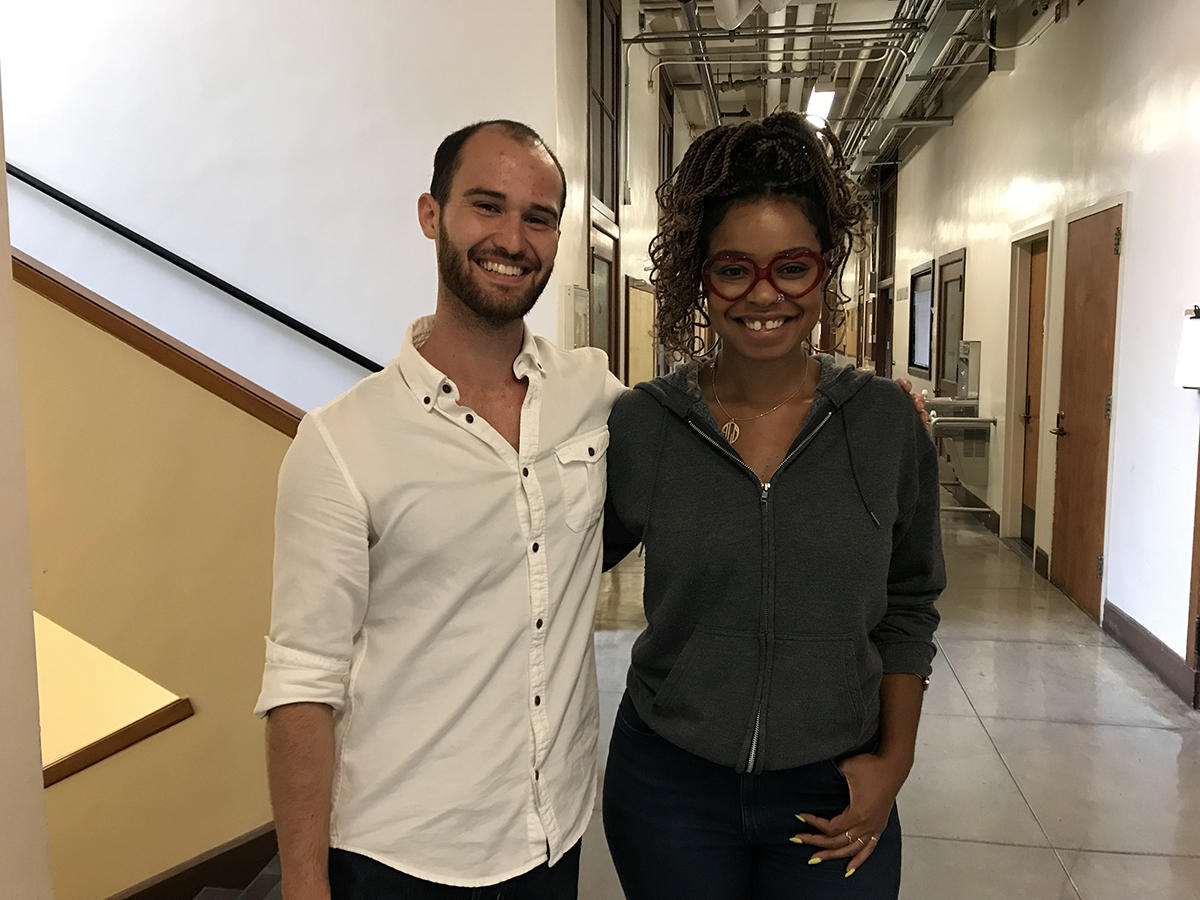 image: (r to l) Shamaya Pellum, Undergraduate Peer Tutoring Program Director and Ty Perez, Peer Tutoring Program Coordinator (photo: College of Chemistry)
Last spring anytime you walked into the Que Family Undergraduate Advising Center at the College of Chemistry there was a lot of activity going on. The new Undergraduate Peer Tutoring program was in action with students dropping by throughout the day to get help with concepts and problem solving for their classes. The white board was covered with formulas and people were sitting and taking notes. The program was so popular that it grew to seven tutors by the end of the semester. Shamaya Pellum, the program's director states, "People loved the program and kept coming back for more assistance. One student returned 33 times over the semester!"
Pellum had been suggesting that the College start a peer tutoring service for several years. When Chevron provided funding to start the program in 2017, she was finally able to make it a reality. After determining what other tutoring programs on campus were offering, she built a new program from the ground up. Her first hire was Ty Perez as the program's coordinator in the fall. By the end of Spring 2018, there were seven paid tutors and a lot of students getting help.
The statistics are impressive: There was a total of 540 tutoring sessions, 43 per week, nine per day all handled by the seven tutors and one volunteer. 66% of the students returned more than once for tutoring. 100 of the students were chemistry majors while another 18% were students from other majors looking for help with chemistry courses. 32% of the service's users were transfer students who also benefited from the program.
Tutoring session in action (photo: courtesy Ty Perez)
According to John Arnold, Undergraduate Dean and Professor of Chemistry, "This program, which was created by Shamaya Pellum in Undergraduate Student Services and coordinated by transfer student Ty Perez last year, is a further example of the College's commitment to developing peer engagement and support that is making a huge difference for our students."
Perez talked about his own experience being tutored. "What was great for me was that at my junior college tutors were available 24/7 for drop in assistance and they really knew their stuff. Our program is focused on the chemistry being taught right now at the College and our tutors are very passionate about the subject. They've had the same classes as the students coming in for tutoring, with the same professors, so are really able to be 'hands on' in their help."
Perez continues, "Also, being a tutor is a great opportunity for undergrads interested in a future that includes teaching to get experience through the Peer Tutoring Program. Undergrads who have a passion for wanting to engage with other students in communicating science concepts, and who really understand the content in the courses, are getting some great practice along with genuinely making a difference."
Students responded to a survey in the spring adding their own thoughts about the program. Here are some of the comments they offered:
I think I may actually pass CHEM 120A.
The CoC tutoring is much more welcoming and accessible than other tutoring I have tried on campus.
It has helped soooo much knowing when office hours are crowded there's another place to find help which is extremely calming when everything gets crazy mid semester.
They have saved me a lot of misery on my problem sets and helped me feel like I'm not alone.
I definitely could not have finished this semester or formed as good study habits without these tutors.
I came to this service not only for CBE 40 but also Physics and Chem. It was really helpful because they've already taken the class or really know the material well so they didn't waste my time. Additionally, they led me to the answer so it made it a learning experience.
Currently, the program is operating out of the lobby of the Que Family Undergraduate Advising Center. Pellum states, "Thanks to a further donation from Chevron, the College is creating a beautiful new tutoring center in Bixby Commons that will open this fall. Once the program has its own space, besides tutoring sessions there are plans to add homework parties, movie nights and much more."
She continues, "The key to getting help from this program is to take advantage of the resources available. Students may feel they don't want to come in for tutoring because they might look 'dumb' or have to acknowledge they are having trouble with courses after being a straight 'A' student in high school. Not all of the students come from a background of AP classes. We have a number of transfer students who also can use a boost."
Pellum comments, "After only one year, I was really delighted to see the number of students on probation drop by almost 33%. That's a big deal and we have the tutors, and the students coming in getting help, to thank for it."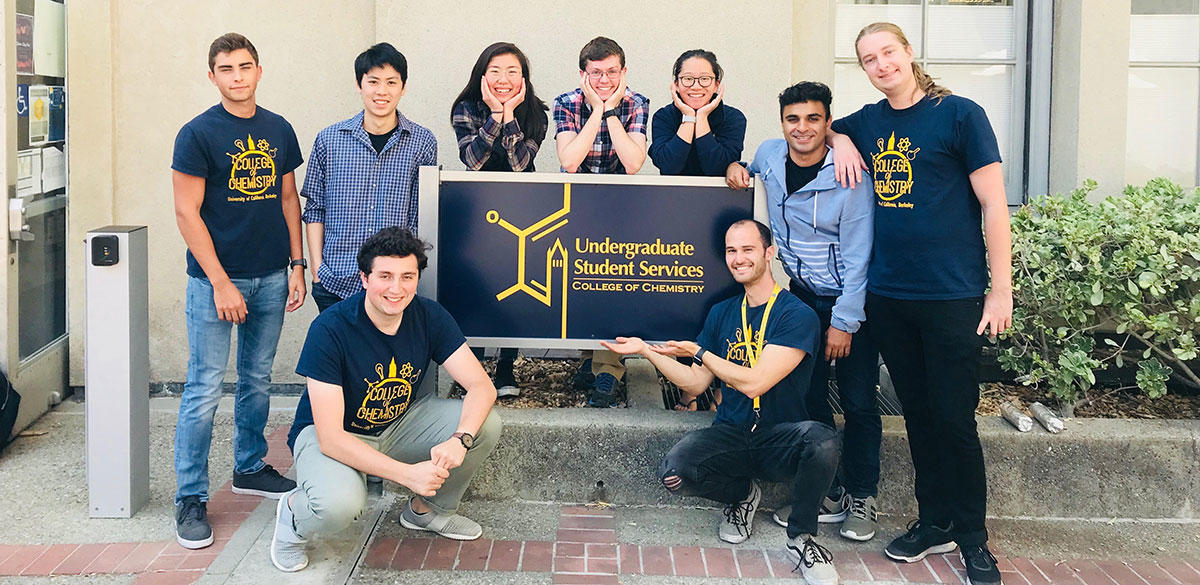 The Fall 2018 peer tutors welcome you. Top row (l to r) - Anton Zverev, Victor Mao  Sophia Wang, Joseph Kelly, Angela Lee, Rayan Lotfi, Brighton Skeel; Bottom row - Vahe Gharakhanyan and Ty Perez (photo: courtesy Shamaya Pellum)
Currently the duo are interviewing for two more tutors for the fall semester. "We are looking for individuals who have completed a number of courses like 120A which is considered one of the toughest courses in the undergraduate program," Perez states. "We like to have tutors who have 'deep experience' in their degree area so they can share their passion along with their practical knowledge."
Pellum laughs, "We are also looking for someone to replace the unbelievably great Ty Perez starting in the spring. He has been the program's anchor doing all the scheduling, running meetings, tutoring and coordinating with the faculty." Perez will graduate this fall with a B.S. in Chemical Biology. "I want to be able to come back in 10 years and see a dozen tutors in action. I hope this program is around for a long time," Perez states.
According to Maura Daly, Director of Undergraduate Student Services, "It has been a real pleasure to have Shamaya Pellum providing the vision and leadership for this program. The program is growing literally by leaps and bounds. I think my colleagues at the College would agree that the Peer Tutoring Program has truly turned 121 Gilman Hall into a student-centered space. It is perhaps also slowly instigating a cultural shift amongst the College undergrads, where seeking help is becoming normal rather than stigmatized."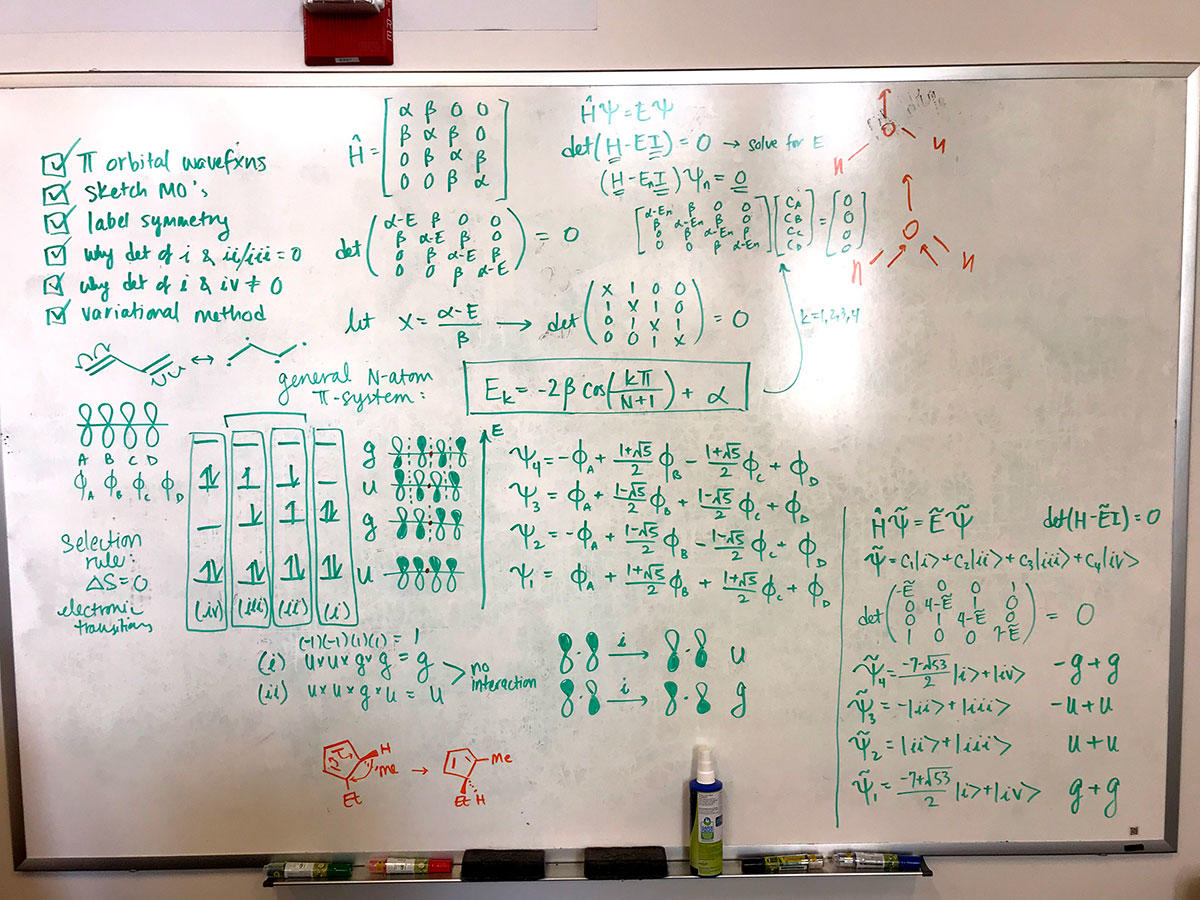 Tutoring session white board (photo: courtesy Ty Perez)