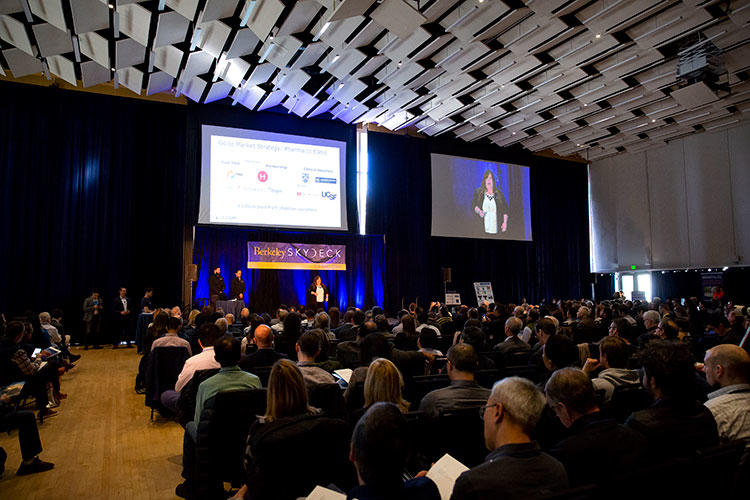 Investors and academics came from around the world to watch presentations from Berkeley SkyDeck startups last week. It is the fourth annual demo day held on UC Berkeley's campus. Photo: Brittany Hosea-Small, UC Berkeley.
UC Berkeley is not just one of the best research universities in the world, but also a unique place for entrepreneurs, students and alumni to grow and build their own innovative startups. Many of the ideas are based on issues young entrepreneurs first encountered in Berkeley classes or labs.
Two College of Chemistry startups presented among 23 young companies last week at Berkeley SkyDeck's annual Demo Day, where entrepreneurs pitched new devices, apps or inventions that, they hope, will provide big, bold fixes to the world's problems, from climate change to disease.
The companies, all of whom have spent the last semester refining their products at UC Berkeley's flagship startup accelerator, Berkeley Skydeck, are looking to raise money from 700 investors who attended the event. Since 2012, companies affiliated with SkyDeck have raised $1.2 billion.
Technology that can decarbonize fossil fuels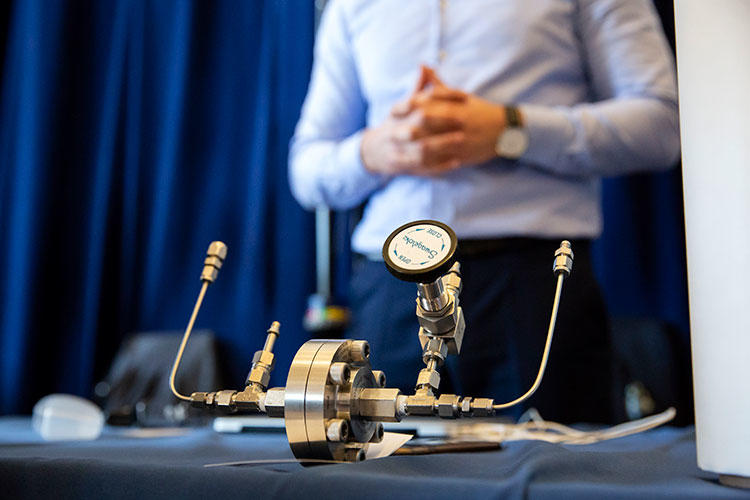 A carbon capture membrane system device is displayed on the Flux Technology table during the Berkeley SkyDeck Demo Day. The technology has the potential to combat climate change. "I licensed the technology through the university," co-founder Jonathan Bachman said. "It all came from Berkeley. It gave us the pre-seed funding in order to be dedicated to this full time." Photo:  Brittany Hosea-Small, UC Berkeley.
Flux Technology, which was co-founded by UC Berkeley alumna Jonathan Bachman (Ph.D. '17, ChemE; Long Group), has developed technology that can counteract climate change.
As a Berkeley Ph.D. student in chemical engineering, Bachman's research helped to develop a breakthrough composite membrane material for gas purification which can efficiently remove carbon dioxide from natural gas.
"This is not an indirect solution to climate change. It's the most direct solution you can think of," Bachman said. "Our technology actually captures CO2 directly from fossil fuels, and we're purifying CO2 and sequestering it underground permanently."
The technology can be used for natural gas processing, biogas upgrading, paraffin separation, and hydrogen purification applications.
Longer-lasting electric car batteries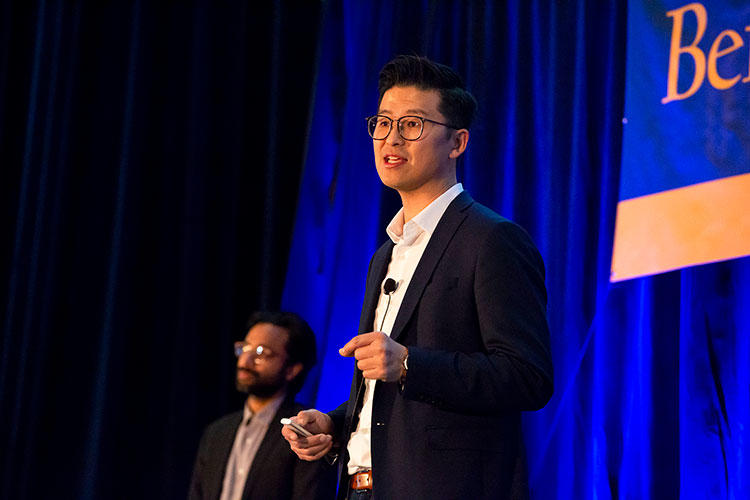 Coreshell CEO and co-founder Jonathan Tan presents his startup company to the audience during the Berkeley SkyDeck Demo Day. Tan says Coreshell sits in a unique position compared to its competitors in the rechargeable battery industry, which are spending billions of dollars in overhaul manufacturing processes. Photo: Brittany Hosea-Small, UC Berkeley
Founded in January 2017 by UC Berkeley alumni Jonathan Tan ( B.S. '06, ChemE) and Roger Basu (M.S. '07, Mater. Sci. Eng.); B.S. '06, Chem), Coreshell Technologies produces a nanolayer thin-film coating that fits into existing manufactured batteries. The technology could make rechargeable batteries last longer.
Coreshell's coatings can increase battery capacity and lifetime by 50%, and is 25% cheaper to produce.
Tan credits his time at UC Berkeley for the development of the technology that fuels his company.
"My co-founder Roger Basu and I studied chemical engineering and material science here," he said. "We've been able to use our technology and technical expertise from UC Berkeley to solve something critical in the clean energy space."