Researchers and scientific societies take off June 10 to address racism and representation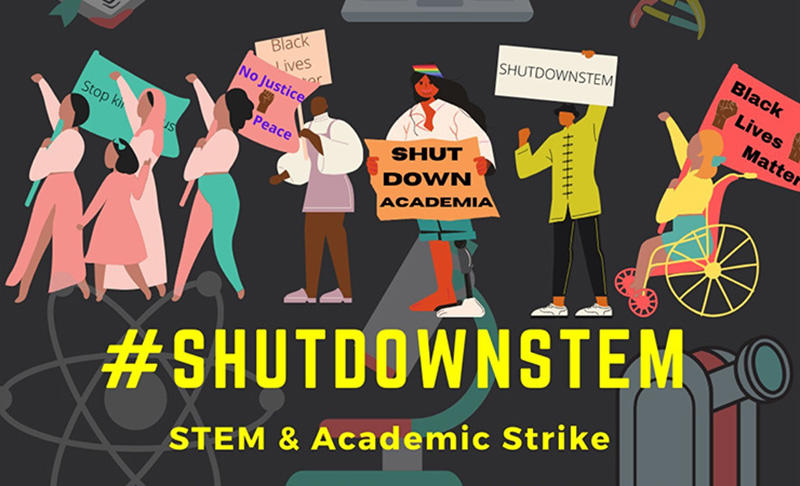 Image courtesy shutdownstem.com
"If we don't take action, the scientific community will be deprived of the latent scientific contributions of talented potential scientists."
Markita del Carpio Landry, professor of chemical and biological engineering, University of California, Berkeley 
As people continue to march in the streets in the US and elsewhere this week to protest racism and police brutality against Black people, scientists are also organizing to address inequities in science, technology, engineering, and math (STEM) fields and academia.
Under the banners of #ShutDownAcademia and #ShutDownSTEM, these scientists call for non-Black scientists around the world to step back from their usual work to educate themselves and develop concrete actions to promote change. "Wednesday June 10, 2020 will mark the day that we transition into a lifelong commitment of actions to eradicate anti-Black racism in academia and STEM," the organizers say. "Your plan should include an actionable goal, steps you will take to reach your goal, and metrics/indicators you will look for to know whether you are successfully moving towards your goal."
For some chemists contacted by C&EN, such action is an extension of work they're already doing.
Steven D. Townsend
At Vanderbilt University, chemistry professor Steven D. Townsend's students concluded that instead of stopping work for a day, "the best way to change the system is to work hard and position themselves to be leaders in chemistry so that they can enact change," he says. Outside of academia, his group has delivered meals to people experiencing homelessness and is gathering items to support an anti-poverty center in Nashville, he says.
Marie Heffern
Marie Heffern, a chemistry professor at the University of California, Davis, is also working with her lab group to observe the strike. "Instead of group meeting, we are going to have a discussion about ways that our lab can make changes to improve inclusivity and encourage success in diverse groups," as well as ways that their department can improve diversity in graduate student recruiting and retention. She adds that it is important for faculty "to not just say they are open to conversation, but to realize that they must be the conversation starters."
Markita del Carpio Landry
Likewise, Markita del Carpio Landry, a professor of chemical and biological engineering at the University of California, Berkeley, has had her lab members postpone previously scheduled activities and will be holding a group meeting focused on Black Lives Matter. Her group also holds a student-run workshop on diversity, equity, and inclusion at its annual retreats. "We find that keeping an open and honest line of communication prioritizing respect, listening, and acceptance and holding each other accountable for upholding these standards helps ensure everyone feels welcome regardless of the path they've taken before getting to our lab," she says.