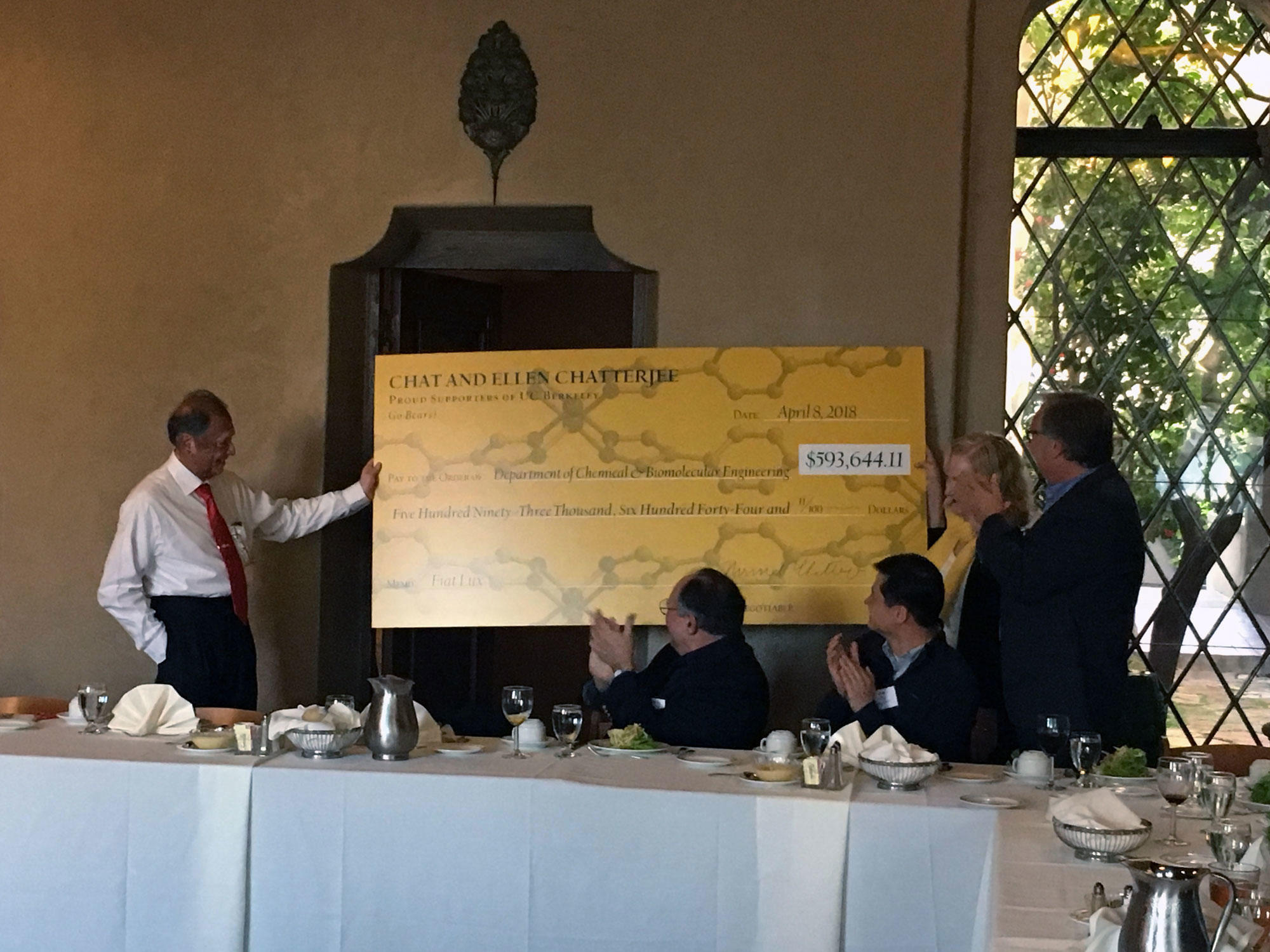 image: (l to r) Advisory Board member Chat Chatterjee, CBE Professor Alex Bell, and Board member Ted Hou, with 

Rebecca De Kalb, University Relations

and Jeff Reimer, Chair of the Chemical and Biomolecular Engineering (CBE) department

Nirmal ("Chat") and Ellen Chatterjee have been long time supporters of the College of Chemistry and believe in giving back. When Chat (Ph.D, ChemE, 1971) presented a "big" check in the amount of $593,644.11 at the opening event for this year's annual Advisory Board meeting, there was an audible gasp and clapping in the room.
Chat explains his reason for giving to the College, "First, I believe that a good Chemical Engineer must have a solid background in Chemistry. That is why I came to Berkeley to get my M.S. and Ph.D.  It is one of only three universities in the United States where ChemE is a part of the College of Chemistry. The synergy was fantastic and has always been very beneficial to me."  
After Chat completed his graduate work in the cryogenics lab of Professor and Nobel Laureate William Giauque, he went on to a career at the cryogenics firm Air Products and Chemicals. The company has seen exponential growth over time. Today, Air Products and Chemicals generates over nine billion dollars in annual sales. 
The Chatterjees wanted to share some of that good fortune with the College and decided to make a generous unrestricted gift to support the CBE department. Unrestricted gifts are very important to the College as they give the dean and department chairs the opportunity to apply funds to important needs, or special projects as they come up. 
"Chat and Ellen have a focused enthusiasm and energy for CBE at Berkeley that has been transformative, as evidenced by support for students, new faculty, infrastructure and, most recently, the Innovation Incubator on the 3rd floor of Gilman Hall," says CBE Chair Jeff Reimer.  
The Chatterjees have formed a close working relationship with staff members in UC Berkeley's Office of Gift Planning and chose to give back by terminating early a charitable gift annuity they'd created with the University several years ago.  To learn more about this and other gift planning opportunities visit the Berkeley Planned Giving site.
Chat summed up his feelings about the donation this way, "I always struggled to articulate what makes a great learning institution. At an international LNG Conference a few years back, I shared the conference opening speech with a native Australian professor. He spoke of an ancient aborigine saying: 'Teach with humility and learn with an open mind.' It made everything clear to me. Today regretfully many of our leading institutions practice neither or tolerate people who do not. The Chemical and Biomolecular Engineering department and the College of Chemistry, God bless you, deliver on BOTH!"