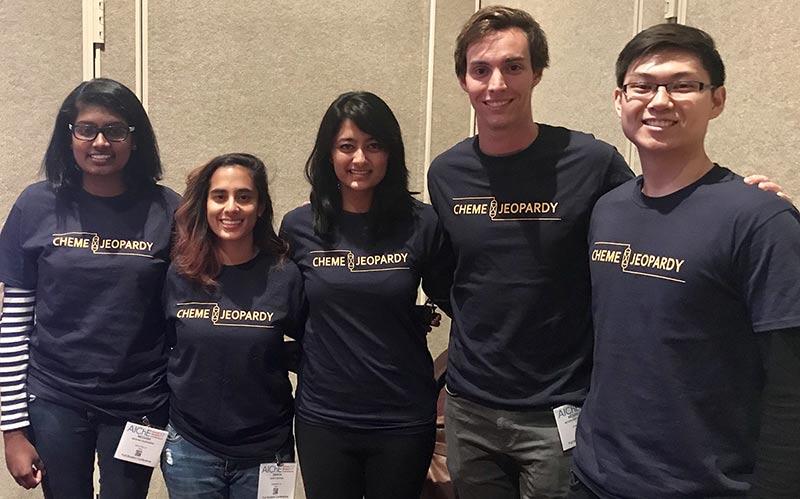 Photo left to right: Meghna Rajendran, Sanya Sehgal, Rajashree Bhattacharya, McGregor Stadtmiller, and Richard Lin. Image courtesy of AIChE.
The UC Berkeley ChemE squad has won the 2017 National Chemical Engineering Jeopardy Championship at the AIChE Student Conference. This version of the Jeopardy Game utilizes questions from chemical engineering undergraduate coursework to test the knowledge of college teams from across the country. Team members included: McGregor Stadtmiller and Sanya Sehgal (co-team leads), Rajashree Bhattacharya and Meghna Rajendran (team members), and Richard Lin (team alternate and support).
The preliminary Chemical Engineering Jeopardy Games were held at the 9 regional conferences last spring. Regional winners went on to compete at the Annual Student Conference in the fall to determine the champion school for the year. UT Austin came in second this year followed up by the University of Florida. "What made winning the AIChE Conference Jeopardy Championship great was not the victory but the enjoyment of learning and sharing that experience with friends and fellow students," stated Sanya Sehgal (co-team lead).
A message from the winners
Most of us joined the ChemE Jeopardy Team because it seemed like a great way to learn and review chemical engineering concepts in a fun way with our friends. As for winning, it's all about practice and consistency. Before the regional competition last spring (which we had to win to go on to the Nationals), we began practicing the Jeopardy Boards and questions as well as making study guides and practice questions every week to achieve our ultimate goal of taking UC Berkeley to the Nationals. We also felt we were able to win because we learned from previous teams' mistakes. Being able to bring home the win for Berkeley was a really great feeling. We are especially pleased as the competitors we faced in the championship round were tough.