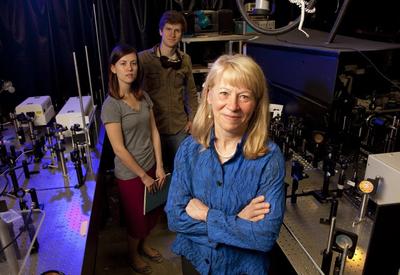 President Trump has made five new appointments to the National Science Board, the governing board of the National Science Foundation. He has also renewed the terms of alumna Geraldine Richmond (Ph.D. Chem, '80) and former Board Chair Maria Zuber. Richmond received her Ph.D. in the area of physics chemistry with George Pimentel as her advisor.
Richmond is a professor of chemistry at the University of Oregon and has held a variety of leadership positions within the scientific community. She served as chair of the Department of Energy's Basic Energy Sciences Advisory Committee from 1998 to 2003 and was the president of the American Association for the Advancement of Science for 2015. She is also co-founder of COACh, an organization dedicated to increasing the number and career success of women scientists and engineers.
In 2018, Richmond received the Linus Pauling Medal Award and the Priestley Medal from the American Chemical Society. She has ongoing research projects that currently that  focus on water. Two current key studies examine environmentally important chemistry that occurs on atmospheric aerosols, and marine and fresh water surfaces and the looking at the molecular behavior of the surface of water when covered with oil and how surfactants, dispersants and polymers assemble and organize at that fluid junction.
About the National Science Board (NSB)
NSB is the 24-member governing board of the National Science Foundation. Its members are responsible for shaping the agency's strategic direction and approving its annual budget submission to the White House. The board also votes to approve large awards, which are most frequently large facility projects. It also has a statutory mission to provide advice to the president and Congress on scientific matters, including by producing a biennial statistical report on the status of the U.S. science and engineering enterprise.