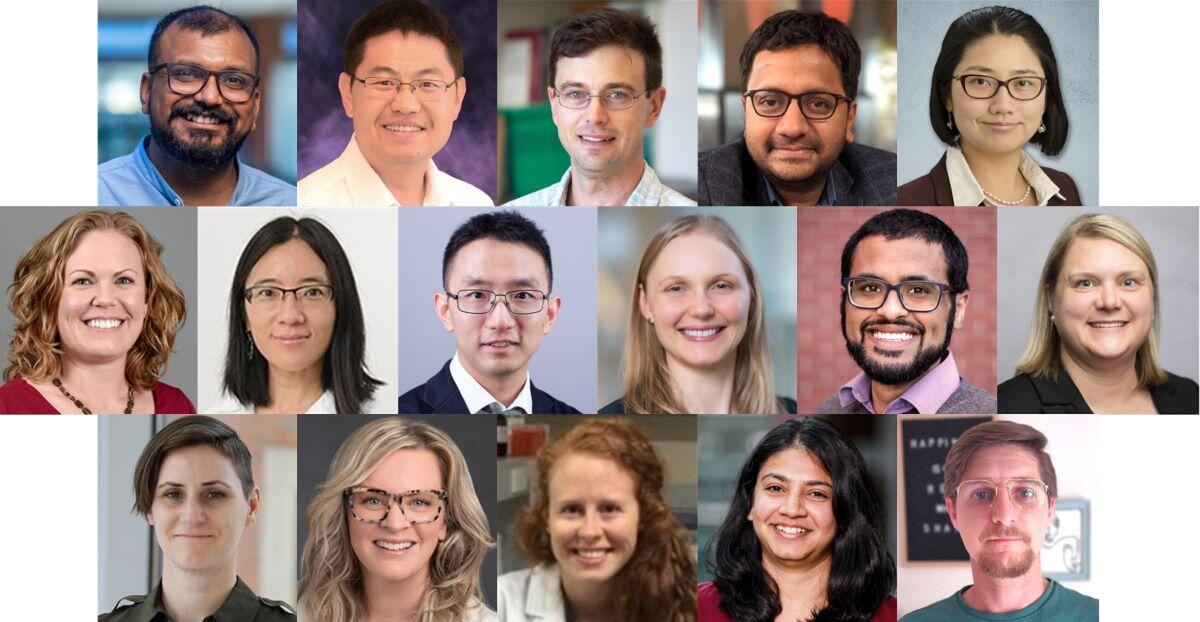 Photo courtesty of Scialog. Top row: Abhishek Shrivastava, Kai Zhang, Will Ludington, Karthik Shekhar, Mei Shen. 2nd row: Heather Bean, Yanjiao Zhou, Chun-Jun Guo, Annie Ciernia, Christopher Whidbey, Stephanie Cologna. 3rd row: Leah Pyter, Sarah MacEachern, Kendall Corbin, Dhara Shah, Santiago Cuesta.
Eight cross-disciplinary teams with novel ideas to probe the relationship between the gut microbiome and the brain will receive awards totaling $1 million in the final year of Scialog: Microbiome, Neurobiology and Disease, an initiative sponsored by Research Corporation for Science Advancement, The Paul G. Allen Frontiers Group and the Frederick Gardner Cottrell Foundation, with support from the Walder Foundation.
The 19 individual awards of $50,000 in direct costs will go to 16 researchers from a variety of institutions across the United States and Canada.
"When they come together, people from many different disciplines can formulate new research directions and new possibilities for discovery that perhaps they couldn't do on their own," said RCSA President & CEO Daniel Linzer. "Helping each other get away from their comfort zones and do something risky can lead to interesting science."
Scialog is short for "science + dialog." Created in 2010 by RCSA, Scialog initiatives support research by stimulating intensive interdisciplinary conversation and community building around an important scientific theme. Teams of two or three Fellows who have not previously collaborated compete for seed funding for high-risk, high-reward projects based on the innovative ideas that emerge at the conference.
Thirty chemists, physicists, biologists, and neurophysiologists met April 20-23, 2023, in Tucson, Arizona, for the initiative's final conference. Due to ongoing pandemic concerns in 2021 and early 2022, the initiative's first two meetings were held virtually.
Barbara Bendlin of the Alzheimer's Disease Research Center, University of Wisconsin-Madison, set the stage for two days of spirited discussions with her keynote talk, "Gut Microbiome as a Potential Target for Intervention in Alzheimer's Disease?"
Bendlin discussed the use of brain imaging and fluid biomarker analysis to study Alzheimer's pathology. She drew on research conducted in her lab and in others' pointing to the importance of modifiable risk factors and the role of the gut microbiome in Alzheimer's.
"We can think about lifestyle factors like physical activity, sleep, behavior, diet, smoking and alcohol, but also about ecosystems that people live in, what kinds of foods they have available to them, built environments, walkability, green space – the social determinants of health," she said. "But where do microbes come in? We know that microbes themselves are an exposure, but they could also mediate the impact of other exposures."
With conversation partners assigned to maximize meeting as many new people as possible, Fellows participated in breakout discussions on such topics as microbiome impact on therapeutic resistance, microbiome and neurodevelopment, and the mechanisms of gut-brain communication. Larger discussion groups were led by Bendlin and two other facilitators, Ali Keshavarzian, Rush University School of Medicine, and Raghuveer Parthasarathy, University of Oregon.
Over the course of the meeting, participants gathered themselves into teams around emerging ideas for novel research they might pursue together. Teams pitched their proposals the final day of the meeting
The following Scialog: Microbiome, Neurobiology and Disease teams will receive 2023 Scialog awards:
Abhishek Shrivastava, Life Sciences, Arizona State University
Kai Zhang, Biochemistry, University of Illinois at Urbana-Champaign
Could Feces be Used as a Natural Time Capsule for Mapping of Signal-Generating Hubs within the Gut?
Will Ludington, Embryology, Carnegie Institution
Karthik Shekhar, Chemical & Biomolecular Engineering / Helen Wills Neuroscience Institute, University of California, Berkeley
How Does the Microbiome-Gut-Brain Cascade Activate Glia? A Single-Cell Transcriptomic and Functional Roadmap in the Fruit Fly
Mei Shen, Chemistry, Neuroscience Program, Beckman Institute, University of Illinois at Urbana Champaign
Heather Bean, Life Sciences, Arizona State University
Yanjiao Zhou, Medicine, UConn Health
Investigating the Influence of Air Pollution VOCs on Alzheimer's Disease-Like Pathology
Chun-Jun Guo, Medicine, Weill Cornell Medical College
Yanjiao Zhou, Medicine, UConn Health
Annie Ciernia, Biochemistry & Molecular Biology, University of British Columbia
Decipher the "Molecular Language' between Microbiota-Microglia Crosstalk Using a Genetically Tractable Microbiome
Annie Ciernia, Biochemistry & Molecular Biology, University of British Columbia
Christopher Whidbey, Chemistry, Seattle University
Identification of Microglial Receptors for Microbiota Derived Metabolites
Stephanie Cologna, Chemistry, University of Illinois at Chicago 1
Leah Pyter, Psychiatry, Ohio State University
The Role of Gut Metabolites in "Chemobrain"
Sarah MacEachern, Pediatrics, University of Calgary
Kendall Corbin, Horticulture, University of Kentucky
Heather Bean, Life Sciences, Arizona State University
Embracing Complexity: Exploring the Connections between Chronic Fatigue, Behavior, and Gut Microbiome Dysbiosis in Children with Neurodevelopmental Disorders
Dhara Shah, Mathematical & Natural Sciences, Arizona State University
Santiago Cuesta, Cell Biology and Neuroscience, Rutgers University
Gut Catecholamine Levels as Modulators of Addiction Behaviors
1 Funded by Walder Foundation
Including this year's awards, the Scialog: Microbiome, Neurobiology and Disease initiative has made awards of more than $2.5 million to 21 teams. It has also sparked new connections and opened doors to new research directions for the more than 50 Fellows who participated over the course of three meetings.
At the final meeting, several previous awardees talked about the progress of their projects and the impact of their new collaborations on their research programs.
Faranak Fattahi, who studies gastrointestinal motility and its involvement in neurodegenerative diseases, said she had always wanted to work on the microbiome but had "zero expertise." Her Scialog funding enabled a "new angle" that has become a core part of her research program at the University of California, San Francisco.
"I could not have just jumped into a new research direction without this seed funding and these collaborations," she said. "It's really a unique opportunity."
Yanjiao Zhou, UConn Health, said an idea for a project had been "floating around in my head for a long time," but she hadn't been able to find the right collaborator.
"By talking with the Fellows here last year, I found a perfect match" with Ashley Ross, University of Cincinnati, Zhou said. "Her expertise in this collaboration has really allowed me to do research I was interested in."
Linnea Freeman, Furman University, said her Scialog project was a pivot for her lab, but it has been well worth it for her to learn about her co-collaborators' expertise and methods, and a significant opportunity for her students to gain experience and "expand their research toolkits" working with other labs.
"I'm excited about this being a stepping stone for all the things that can domino effect afterwards," she said.
Stephanie Cologna, University of Illinois at Chicago, said her 2022 Scialog collaboration was a topical shift for her group that has "really changed the way we think about our current projects."
"One thing I am really committed to in my lab is creating a culture of collaboration," Cologna said. "Everyone in my group has multiple collaborative projects that are related to our central theme. That's important, because I believe when you learn more about someone else's science, your science can become better."
---
Source RCSA Press Release: 8 Teams Win Funding in Final Year of Scialog: Microbiome, Neurobiology and Disease