The new Heathcock Hall will break ground in 2023. The building will sit between Latimer and Lewis Halls behind Pimentel Hall. 
Friends of the College, Thomas and Yang Parenty and Mary Luo, have generously donated $1M for the Heathcock Hall building fund in honor of their long-time friend and building namesake Clayton Heathcock. Thomas works in cybersecurity while Yang recently retired from a career in investment banking in China. Mary runs a chemical company headquartered in Suzhou, China. 
Their story with Clayton does not start in a research lab at Berkeley, or even relate to the field of chemistry, but instead began 25 years ago when Thomas was looking for a dog, specifically a Rhodesian Ridgeback.
Thomas explains, "I planned to get my second Ridgeback from a breeder in Santa Clara County. They promised me pick of the litter for a pet while at the same time offering Clayton Heathcock (Professor and Dean Emeritus of the College) his first choice for a show dog. We picked the same dog! This is how Clayton and I met and was the start of our friendship. We worked out a deal where "Pele" (Ch Sunchase The Fire Godess) lived with me, but Clayton showed her, arranged for her breeding, and found homes for her puppies. Later, when I moved to Hong Kong, Pele stayed in the Bay Area with friends who owned the Hanger One Vodka distillery in Alameda. Pele went to work every day at the distillery to keep an eye on things."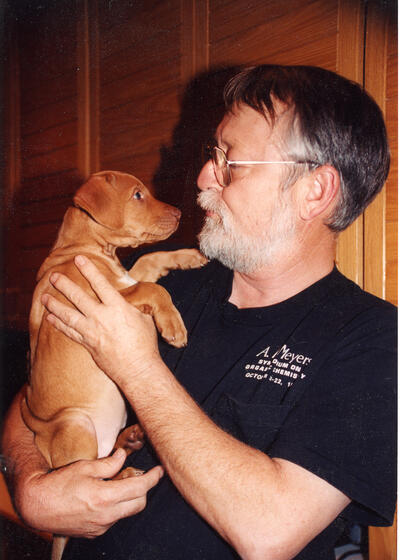 Clayton Heathcock in 1993 with Murphy. Her AKC name was Kwetu's Brownian Motion, which is a chemistry term that conveys the idea of constant random motion. Photo Cheri Hadley.
Clayton is well known for his chemistry research and important work producing graduate students who have gone on to significant careers in the chemical and academic fields. However, he also has had a longtime passion for raising Rhodesian Ridgebacks.  Starting in 1988, he has been responsible for producing a significant number of champion dogs as well as wonderful family pets. He has also been involved in the development of the breed's standards sharing important health research. At the same time, he was running his lab and from 1999-2005 he was also the dean of the College of Chemistry. He has sat on professional committees for the American Chemical Society and is a member of both the American Academy of Arts and Sciences and the National Academy of Sciences.
When Thomas and Yang returned to the Bay Area in 2016, Yang's son talked Thomas into getting Yang a dog to replace the one she had tragically lost while she lived in China.
Thomas continues, "We wanted to get another Ridgeback. But after trying another breeder, we reached out to Clayton to see if he could help us. He did have a litter at the time, but they were all spoken for. Just at the point when I had given up hope, Clayton called. A puppy named "Peppermint Patty" had just become available. We went to Martinez to pick her up and that as they say is history."
Yang adds, "We named her Abao. When people ask about her name, I tell them 'bao' means treasure and the 'A' makes the name sound friendlier. I then explain that Abao is the name of the lead character in the Chinese version of the Kung Fu Panda movies, and like that character, she is always hungry. Then you see their eyes light up."
In addition to being a treasure, Abao is excellent at providing company to people under stress. She supported Thomas when he was working on his latest book in the middle of the night; several exhausted foreign teenagers who were in town for school interviews; and Mary, who in December 2017, was taking a long overdue vacation at Yang and Thomas's home in Berkeley. During Mary's stay, Abao was constantly by her side and curled up at her feet. It was also during this stay, over Christmas dinner, that Mary met Clayton whom Yang introduced as "Abao's Grandpa".
After learning about the Heathcock Hall project, Yang had started reaching out to people she knew who had a connection to the University, or to the chemical industry, and would have a natural interest in contributing to the building fund. Yang called Mary and told her about how Heathcock Hall would advance research at the College of Chemistry and explained how a relationship with the College could be beneficial to her company. Mary was not convinced and asked Yang why she, without any connection to the University or to chemistry, should be interested in raising money for the building. Yang replied, "Because it's named after Abao's grandpa." Well, that changed everything, and Mary immediately said she would contribute to the building fund.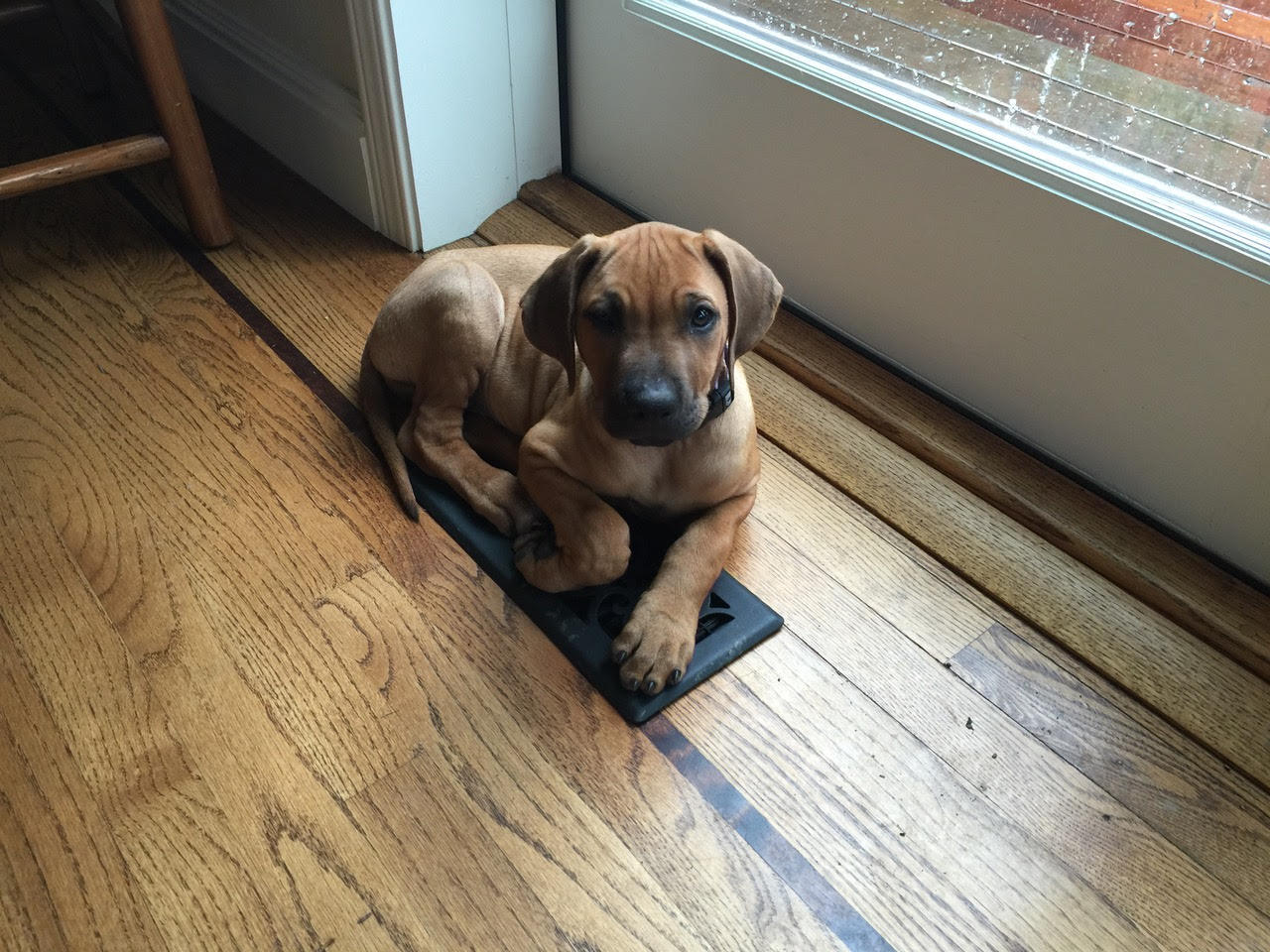 Abao when she was a puppy in Berkeley. Photo courtesy of Thomas and Yang Parenty.
Thomas continues "Recently, we invited Clayton and his wife Ruth over for dinner. Joining them were some other friends and several of their children who were current undergraduates at Berkeley. It was fun to watch how Clayton engaged them in conversation. The joy he had talking to these young people about their interests was contagious. After the dinner plates were removed, I told Clayton Mary wanted to congratulate him on his building. We set up a video call to Shanghai and Mary not only congratulated Clayton, but also said she was contributing $500K toward his building and would be sure to return to Berkeley for its opening. After the call, Yang told Clayton we would contribute an additional $500K because one million is a much rounder number."
Thomas concluded, "Yang and I feel the promise of advancing new and forward-thinking research in Heathcock Hall will help to create a better world for all of us. Whether this relates to improving the environment or a whole host of other innovations, the impact of this research will be positive and transformative. For us, the inspiration to give comes out of our long history with Clayton, but our hope is with the future."
Learn more about the Heathcock Hall campaign here.