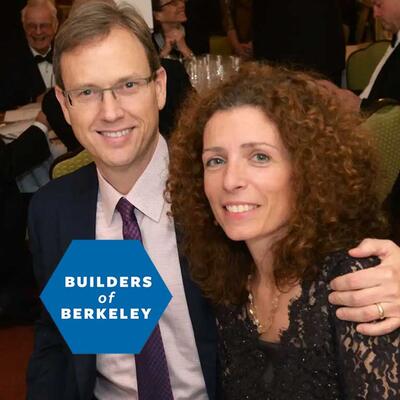 Herb and Leila Hooper. Photo courtesy of the Hoopers.
We are very grateful to Herb and Leila Hooper for their donation of $1M for the Heathcock Hall building fund. They gave their gift in honor of Herb's faculty advisor at Berkeley, John Prausnitz. Herb attended the College from 1985-1990 receiving his Ph.D. in Chemical Engineering with a focus in molecular thermodynamics of aqueous systems.  In connection with this gift, a conference room in Heathcock Hall will be named in honor of Professor Prausnitz.
After Herb graduated from UC Berkeley, he began his career at Air Products and Chemicals, initially working in research before moving to business development. In 1993, he left Air Products to cofound ACLARA Biosciences, securing equity financing from Ampersand Capital Partners and other investors. After ACLARA went public, Herb joined Ampersand in 2002.
Today, Herb is the Managing General Partner at Ampersand, a healthcare private equity firm with $3 billion of assets under management. He has over 25 years' experience working with healthcare companies, first as an entrepreneur and later as an investor.
His current and past board seats include Adaptas Solutions, Alcami, Arranta Bio, Avista Pharma, Brammer Bio, Genoptix, Nexelis and Viracor-IBT Laboratories. We are also honored to have Herb serve on the College of Chemistry Advisory Board for the University of California, Berkeley.
Herb describes his time at Berkeley thusly, "It was challenging of course, but very mentally stimulating because I was around a lot of super bright people and because I had the privilege of being mentored by John. He was obviously a very accomplished scientist and principal investigator. But he also had many interests outside of research, and we all benefited from him giving us a nudge to look outside the department and develop ourselves more broadly."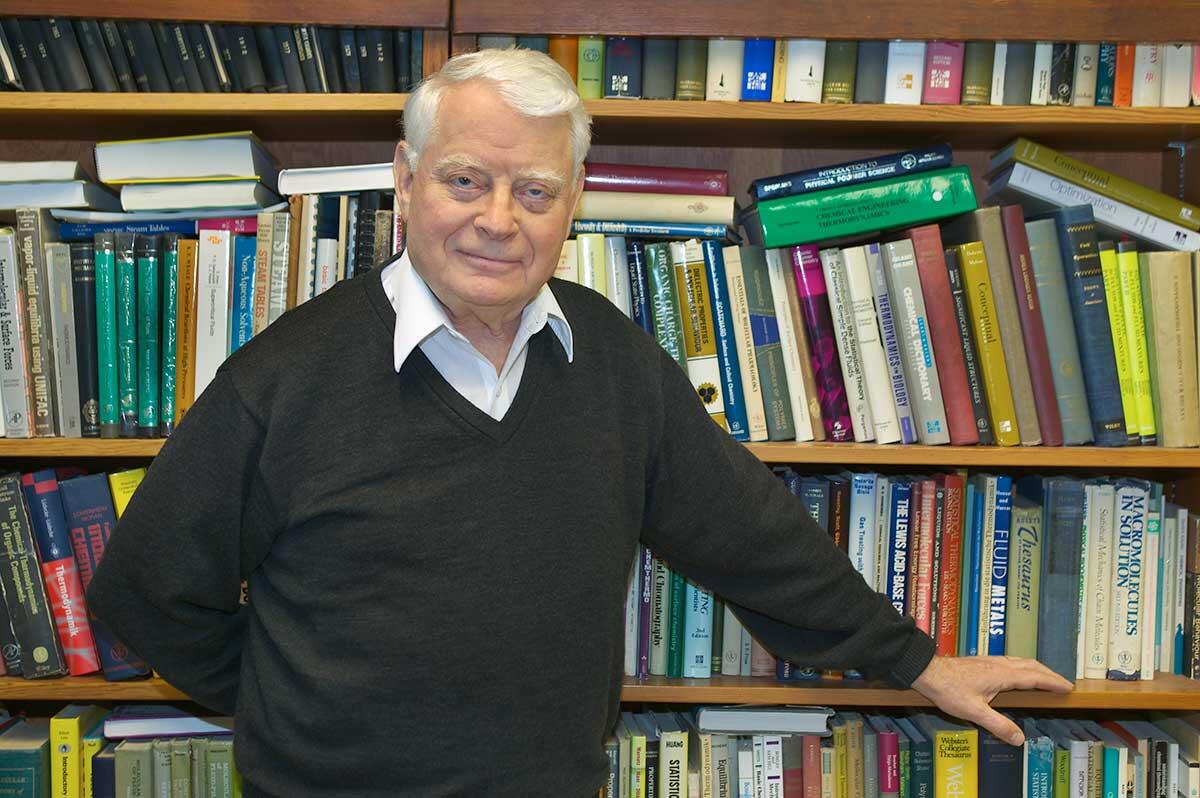 John Prausnitz in his office. (photo 2005, Roy Kaltschmidt)
John Prausnitz, Professor of the Graduate School, joined the College of Chemistry as an assistant professor of chemical engineering in 1955 coming directly from completing his Ph.D. at Princeton. John was born in Berlin and came to the U.S. in 1938. He attended Cornell University for his B.Ch.E. While at Cornell, along with developing his interest in physical chemistry and chemical thermodynamics, he also discovered his lifelong passion for the arts and the history of science, German poetry, and technical writing.
When John joined the Berkeley faculty, chemical engineering was a division of the Chemistry Department. It became a full department in the College in 1957. The program was small at the time, with only 15 graduate students. He was initially hired to do research, teach chemical-reaction design, and supervise three Ph.D. students.
By the time Herb arrived at the department in 1985, John's group had grown substantially and had plenty of lab space on the second floor of Gilman Hall. But not unlike the College's challenge today, there was a lack of space available when John first came to Berkeley in 1955. He commented in a 2018 interview, "…There was a definite problem, because this was at a time when [Gillman and] Lewis Halls existed, but Latimer Hall (1963) and Hildebrand Hall (1966) had not yet been built, so there was a definite shortage of [lab] space. …I looked around and found this little room. I had to really struggle to get space [at first]. I finally did, and after a few years I had enough."
John's research group was very interdisciplinary. His international impact is indicated by the fact that by 2011 he had worked with 421 different coauthors from 67 different academic, industrial, and governmental organizations in more than 20 countries on research and publications. By 2019, John had co-published approximately 800 research papers and articles.
The development of John's ultimate research program at Berkeley was much inspired by his interactions with his fellow professors of chemistry Joel Hildebrand, Ken Pitzer, and Leo Brewer as well as with Bernie Alder (B.Sc, Chem; M.S., ChemE) who was at Livermore National Laboratory. John retired in 2004 after nearly 50 years in the Department of Chemical Engineering. However, he is still active currently in research.
Herb concludes, "It's important to note that it's not a new problem that the College urgently needs to upgrade its labs and teaching facilities. Building Heathcock Hall (just like Latimer and Hildebrand in the 1960s) will help us to continue our recruitment of remarkable young chemical scientists. The number one college of chemistry in the world needs leading edge facilities to attract and retain the best talent and to facilitate continued urgently needed breakthroughs."
Learn more about the Heathcock Hall campaign here.