Learning Outcomes and Assessment for the Chemistry and Chemical Biology Majors at UC Berkeley
Introduction
Student Learning Outcomes
Core Curriculum
Assessment Measures
Communication of Learning Goals
Long Term Goals
Table I
Table II
---
Introduction
The Department of Chemistry educates a large number of undergraduates, who have a choice of two degree programs:
The Bachelor of Science Degree in Chemistry: intended for students who are primarily interested in careers as professional chemists or wish a thorough grounding in chemistry in preparation for professional or graduate school in chemistry and other disciplines.
The Bachelor of Science Degree in Chemical Biology: for students who are interested in careers in biochemistry, the biological sciences, medicine, pharmacology, and bioengineering.
Since the inception of the latter degree program in 2002 (with the first chemical biology majors graduating in 2004), the number of undergraduate chemistry and chemical biology students has increased significantly.  At the end of Spring 08 semester, the Department of Chemistry graduated 97 Chemistry/Chemical Biology majors, making it one of the largest programs in the nation.
Student Learning Outcomes
The major in chemistry provides training for students planning careers in the chemical sciences and also for those whose interests lie in biology, medicine, earth sciences, secondary education, business, and law.  More than half of the total Berkeley undergraduate population will, at some stage of their degree program, take a course in the Department of Chemistry and the curriculum of the Department is designed to satisfy the diverse needs of all these students.
Each chemistry graduate will have completed an integrated, rigorous program which includes foundational course work in chemistry and in-depth course work in chemistry or chemistry-related fields. The ACS-certified degree further emphasizes laboratory experience and the development of professional skills. Advanced coursework and educational activities outside the traditional classroom, such as independent research, provide students the opportunity to conduct individual research projects or participate as a member of a research team.  Many undergraduate students also benefit from taking our graduate courses in synthetic and physical chemistry.
At graduation, chemistry majors will have a set of fundamental competencies that are knowledge-based, performance/skills-based, and affective. 

Knowledge-Based
All our graduates will be able to:
Master a broad set of chemical knowledge concerning the fundamentals in the basic areas of the discipline (organic, inorganic, analytical, physical and biological chemistry).
Solve problems competently by identifying the essential parts of a problem and formulating a strategy for solving the problem.  They will be able to rationally estimate the solution to a problem, apply appropriate techniques to arrive at a solution, test the correctness of the solution, and interpret their results.
Use computers in data acquisition and processing and use available software as a tool in data analysis.
Employ modern library search tools to locate and retrieve scientific information about a topic, chemical, chemical technique, or an issue relating to chemistry.
Performance/Skills-Based
All our graduates will demonstrate the ability to:
Understand the objective of their chemical experiments, properly carry out the experiments, and appropriately record and analyze the results. 
Use standard laboratory equipment, modern instrumentation, and classical techniques to carry out experiments. 
Know and follow the proper procedures and regulations for safe handling and use of chemicals. 
Communicate the concepts and results of their laboratory experiments through effective writing and oral communication skills. 
Affective
All graduates will be able to:
Successfully pursue their career objectives in advanced education in professional and/or graduate schools, in a scientific career in government or industry, in a teaching career in the school systems, or in a related career following graduation. 
The relationship between the Major's core curriculum and student learning outcomes can be seen in the Appendix in Table I.
Core Curriculum
The following figure represents a mapping of the curriculum for representative undergraduate programs in Chemistry and Chemical Biology in the Department of Chemistry.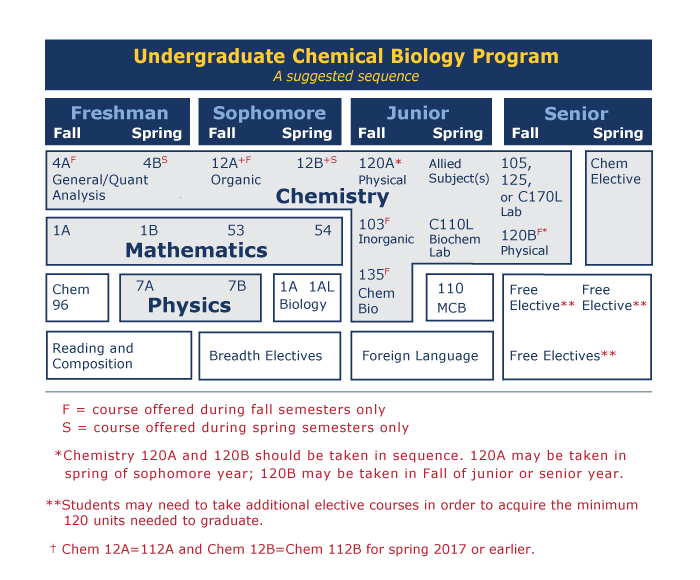 Details regarding the content of these courses, admissions, degree requirements, scholarship requirements and academic policies can be found on the College of Chemistry website's degree information section.
Assessment Measures
A departmental Assessment Committee will be formed with rotating membership comprised of faculty and staff.  This committee will analyze data from exams, lab reports, student oral and written reports and presentations, and an Alumni Survey.  The Assessment Committee will summarize its assessment activities at the end of each academic year and will then report the results to the Department of Chemistry via the Department Chair.  The Committee will make recommendations on how the major could be strengthened.  The Department will decide upon and carry out appropriate follow-ups to all assessment activities, which may involve consultations with external bodies (alumni, industry, etc).
Academic advising
All students receive academic advising at least once per semester. The adviser discusses student interests, potential career paths, and advises the student on program option selection and on technical elective choices. Advisers review technical areas where students may experience difficulty. The adviser identifies areas of difficulty based on student grades in specific courses and by discussion with the students, and recommends elective courses and other resources (e.g., tutoring) as needed, to ensure students meet program objectives.
Student surveys and other feedback
The Department of Chemistry surveys graduating seniors to gather data for assessment of program objectives. In addition, every spring semester an Honors Tea is held which provides a forum for the students to express their reactions and insights.
Student Evaluations of Teaching.
The Department of Chemistry collects student evaluations for each course. These data are compiled for review along with the surveys described above.
External measures of program effectiveness
A range of external indicators provides excellent feedback to the Chemistry Department on the extent to which undergraduates are meeting their program goals. For example, graduates continue to be in strong demand in a wide range of post-graduate professions. In addition to being strongly recruited to the best Ph.D. programs in the country, Berkeley's graduates take up positions including medical schools, industry, and State and Federal government. (For details see College Facts.) In addition the chemistry programs at Berkeley are approved by the American Chemical Society (ACS) and students are encouraged to apply for ACS-certification.
Capstone Experiences
The cumulative nature of the chemistry degree programs provides a learning spiral that builds on itself as the student progresses from freshman through to senior year. At the upper division level, the provision of research experiences gives the student and the faculty the opportunity to put much of this learning into practical use. Whether they get this experience in a research laboratory (receiving course credit — and a grade), or in upper division laboratory courses in physical, inorganic, organic, or analytical chemistry, each student can be evaluated on their ability to apply their accumulated knowledge and skills to a research topic.
A summary showing the relationship between learning outcomes and assessment and evaluation methods can be seen the Appendix in Table II.
Communication of Learning Goals
The educational objectives of the Department of Chemistry can be viewed by visiting the Undergraduate Degrees section of this website.
These elements combine to form the continuous cycle of goal-setting, communication, assessment of attainment, and review and refinement of the curriculum undertaken by the department and represented by the schematic shown in Attachment II.
We are proud of the goals established for the students in our program, and we view the achievement of those goals as a collaboration of the faculty and students. Such achievement has been consistently recognized by national rankings and assessments, and attested to by the reputation the department continues to enjoy internationally. At the same time we are cognizant of the continuing effort to be made to reevaluate and refine the goals of the department and their effective achievement as the practice of chemistry and chemical biology evolves.
Long Term Goals
An important aspect of the Department's approach to learning outcomes and student assessment is the degree to which this process affects our longer-term instructional planning. Specific action items are proposed:
Greater emphasis will be given to providing capstone experiences for all majors. At a minimum, every student will take a laboratory course that requires them to carry out a research exercise that tests the results of the cumulative effects of the undergraduate curriculum. We plan to have this system in place within two years.
An electronic portfolio of student work will be set up for each student majoring in chemistry in the Department, along the lines already under development at UC Irvine. Copies of graded exams, for example, will be scanned and copies will be filed in student portfolios. With instructor consent, exam copies could be made available to students, either via bSpace or email.
Table I. Relationship between the major's core curriculum and student learning outcomes.
Course
Course Name

Learning Outcomes (see p. 2)

 
 

Knowledge

(1-4)

Skills
(5-8)

Affective
(9)
 
 
1
2
3
4
5
6
7
8
9
4A/B
Majors General Chem
✓
✓
✓
 
 
✓
✓
 
 
12A/B+
Organic Chemistry
✓
✓
 
 
✓
✓
✓
 
 
104A/B
Inorganic Chemistry
✓
✓
 
✓
 
 
 
 
 
120A/B
Physical Chemistry
✓
 
✓
 
 
 
 
 
 
103
Bioinorganic Chemistry
✓
✓
 
✓
 
 
 
 
 
105
Analytic Chemistry
✓
✓
✓
✓
✓
✓
✓
✓
 
108
Inorganic Synthesis Laboratory
✓
✓
✓
✓
✓
 
✓
✓
 
115
Organic Synthesis Laboratory
✓
✓
✓
✓
✓
✓
✓
 
 
125
Physical Chemistry Laboratory
✓
✓
✓
✓
✓
✓
✓
 
 
135
Chemical Biology
✓
✓
 
✓
 
 
 
 
 
H194
Honors Research
 
✓
 
✓
✓
✓
✓
✓
✓
Table II. Relationship between learning outcomes and assessment and evaluation methods.
Learning
Outcomes
Assessment & Evaluation Methods
1
Final exams in Chem 4A/B, Chem 12A/B+, Chem 104A/B, and Chem 120A/B will be reviewed for randomly selected students for appropriate content knowledge. 
2
A portfolio of final exams in Chem 120A/B, Chem 104A/B, Chem 135, and laboratory reports in Chem 105, 108, 115, and 125 will be evaluated.  
3
Students will successfully complete computational problems or computer modeling exercises in Chem 105 and 125.  Samples of student work products will be collected and evaluated. 
4
Students will complete a library tutorial assignment in Chem 108, which will include retrieving information using modern library search tools about a topic, chemical, chemical technique, or an issue relating to chemistry.  A graded literature report will be evaluated.  Laboratory reports in Chem 105, 108, 115, and 125 will be evaluated.
5
A portfolio of laboratory reports in Chem 105, 108, 115, and 125 will be reviewed. 
6
A portfolio of laboratory reports in Chem 105, 108, 115, and 125 will be reviewed.
7
Laboratory reports in Chem 105, 108, 115, and 125 will be evaluated.
8
Sample experimental reports from Chem 108 and 125 will be compiled and evaluated.  Student presentations in both courses will be evaluated. 
9
Alumni will be surveyed and asked whether they were adequately prepared for their careers and whether they were provided with an adequate understanding of their career options.
†Chem 12A = 112A and Chem 12B = Chem 112B for Spring 2017 or earlier.