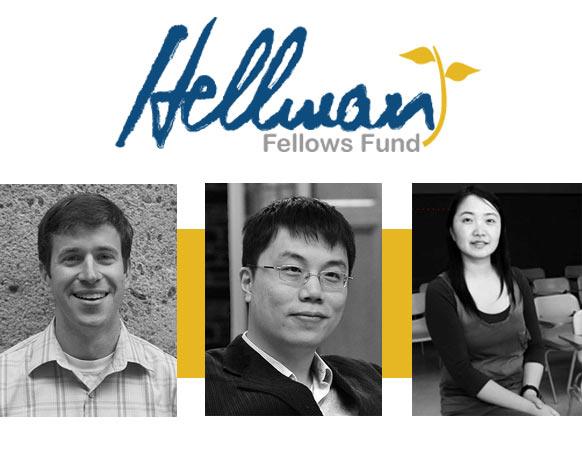 Three College of Chemistry assistant professors, chemistry's Evan Miller and Ke Xu, along with CBE's Wenjun Zhang, are the recipients of awards from the Hellman Fellows Fund. They are among 20 young Berkeley faculty members to be funded by the program.
Established by the late F. Warren Hellman, the purpose of the Hellman Fellows Fund is to support the research of promising assistant professors who show capacity for great distinction in their research.
The awards were created to address a specific problem. Junior faculty are often well-funded when hired, but after 2-3 years their initial funding dries up before they have obtained their first research grants. These awards are designed to assist promising young faculty at this point in their careers.
The Hellman Foundation is rooted in the generosity of Warren and Chris Hellman. Warren Hellman served as Chairman of the San Francisco Foundation, Trustee of the UC Berkeley Foundation, and member of the Jewish Community Federation, among other boards and leadership committees.
According to the couple, "Our family began the Hellman Fellows program in 1994, making grants to colleges and universities in support of junior faculty research. We made an educated guess that junior faculty could greatly benefit from early career funding. It seems we were right.
"Over the years, the Hellman Fellows program has supported more than 850 junior faculty members, who are now chairs and heads of departments, MacArthur geniuses and tenured faculty with long track records of successful research. Creating the Hellman Fellows program is one of the best things our family has ever done with our giving."