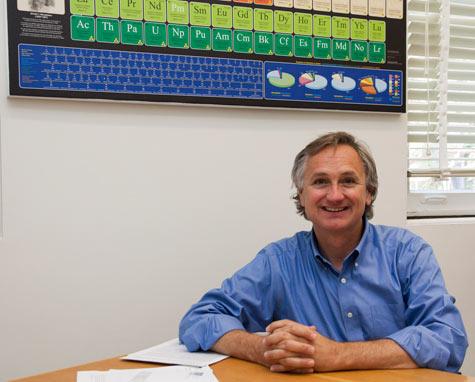 Chemical and biomolecular engineering professor Jeff Reimer has agreed to serve as the new CBE chair, replacing current chair Doug Clark, who will become the dean of the College of Chemistry on July 1.
No stranger to administrative duties, Reimer previously served as CBE chair from  2006-2011. He also served as an associate dean in the graduate division from 2000-05.
Reimer has agreed to a three-year commitment that will, along with the two years already served by Clark, complete the customary five-year term of office for a CBE chair.
Reimer is an expert in the application of NMR to materials research, and in the emerging field of spintronics. Says Reimer, "My research has been moving along rapidly, but I am confident my group can keep up the pace with me just a few doors further away in Gilman Hall. "
Reimer's most recent scholarly works span a range of materials studies, including the structure and properties of metal-organic frameworks for CO2 capture, fuel cell membranes and electrocatalysts, and semiconducting materials for energy capture.
"Together with Dean Clark," says Reimer, "I want to develop and deploy resources that enable student learning, foster creative research, captivate staff and enthrall alums."