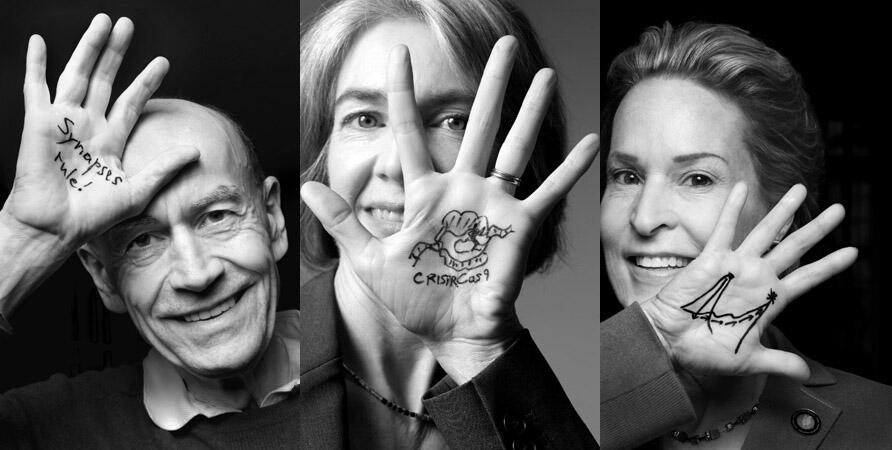 Among Koelbl's portraits are those of Thomas Südhof, Jennifer Doudna and Frances Arnold. Photos courtesy of Herlinde Koelbl.
UC Berkeley CRISPR pioneer Jennifer Doudna is one of 60 Nobel Prize winners captured by renowned German photographer Herlinde Koelbl in striking black and white portraits that spotlight on the palms of the scientists' hands their discoveries and insights.
Forty of these unique portraits will be on display in the second-floor atrium of Berkeleys Li Ka Shing Center starting today (Friday, Sept. 15) through Monday, Oct. 16. The building is at 1951 Oxford Street, near the campuss West Crescent. The atrium is open to the public Monday through Friday, 7 a.m. to 6 p.m., and the exhibit is free.
The traveling exhibit, "The Fascination of Science," is being hosted by Berkeleys Henry Wheeler Center for Emerging and Neglected Diseases and the German Consulate General in San Francisco.
Koelbl is among Germanys most respected photo artists. Her work comprises long-term photographic projects, documentary films and video installations.
For this project, Koelbl interviewed and took portraits of 60 of the worlds leading Nobel Prize winners and scientists and asked them to note the essence of their research on their hand. Doudna, for example, drew a picture of the CRISPR enzyme, Cas9.
My aim was to get to know these top scientists better and to communicate their fascinating insights and life experiences and, yes, to bring science to life, Koelbl said.
Among her other subjects were Berkeley alumna Frances Arnold, winner of the 2018 Nobel Prize in Chemistry; former Berkeley Professor Carolyn Bertozzi, who won the 2022 Nobel Prize in Chemistry; Emmanuelle Charpentier, who shared the 2020 Nobel Prize in Chemistry with Doudna; and Thomas Sdhof, who shared the 2013 Nobel Prize in Physiology or Medicine with Berkeley's Randy Schekman.
---
Source: UC Berkeley News, Nobelists show their hands in photo exhibit by noted German photographer