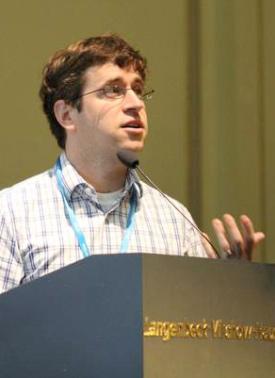 Chemistry professor Evan Miller has won a Young Chemical Biologist Award 2015 from the International Chemical Biology Society (ICBS).
As one of four awardees, Miller gave a podium presentation during the special Rising Stars session at the 2015 joint meeting of ICBS and the European Chemical Biology Society (ECBS) in Berlin, Oct. 7–9. Miller's lecture was titled "Electrophysiology, Unplugged: New Small Molecule Fluorophores for Optical Interrogation of Neuronal Voltage."
Says Miller, "It was fantastic to speak at the symposium and share the exciting work that students and post-docs are doing in my lab. It's always rewarding to share your work in different settings, because it often stimulates discussion and opens new avenues of research."
The next ECSB meeting will be held in Budapest, Hungary, July 2–7, 2017.
More information on Miller's research:
http://www.nature.com/nmeth/journal/v12/n10/full/nmeth.3591.html
http://pubs.acs.org/doi/full/10.1021/jacs.5b08654