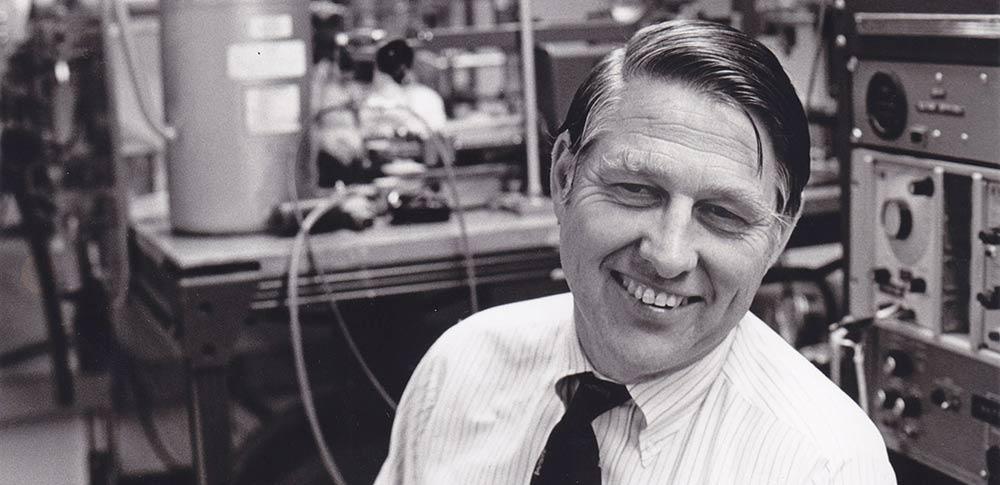 Rollie J. Myers Jr. died on September 12, 2016. He was 92 years old. He had been dealing with the challenges of a chronic heart condition for some time and died peacefully in his home while recovering from a bout of pneumonia.
Rollie was born in Hastings, Nebraska, on July 15, 1924. Shortly after, his family moved to South Pasadena where he was a star chemistry student and held various summer jobs at Caltech while still in high school.
Rollie received his B.S. from Caltech in 1947, followed by an M.S. in 1948. He was a student of Linus Pauling and Ernest H. Swift. Rollie earned his Ph.D. in the College of Chemistry in 1951 with William Gwinn and joined the faculty as an assistant professor.
Although he mentored many graduate students, Rollie was best known for teaching a wide variety of undergraduate courses and serving as an example of excellence in teaching, research and service for more than 40 years. He was an expert in radio and microwave spectroscopy, and he is widely recognized for having established the college's NMR facility.
Rollie was predeceased by his wife, Sylvia Harcstark Myers (Ph.D. '55, English). He is survived by his daughter, Adele Myers, son Keith (Mary) Myers and grandsons Kiwani Murphy and Miguel Jeffrey. He was a wonderful father and grandfather. His laughter and wonderful soul are greatly missed.
A memorial service will be held Sunday, November 13, 2016, at 2 p.m. at the Sequoia Lodge, 2666 Mountain Blvd, Oakland. Remembrances can be made in his name to the College of Chemistry at chemistry.berkeley.edu/giving, and the American Chemical Society.