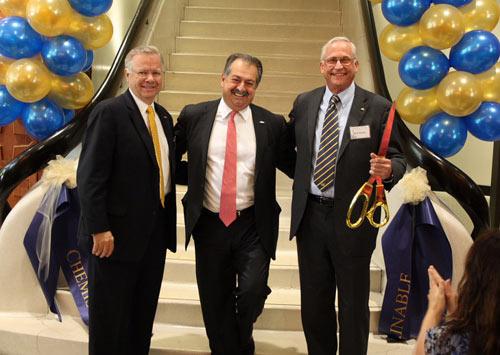 DOW's David Kepler and Andrew Liveris, along with College of Chemistry Dean Richard Mathies, celebrate the opening of the new teaching labs.
Andrew N. Liveris, chairman, president and CEO of The DOW Chemical Company, was the guest of honor for the College of Chemistry on Saturday, May 18. Not only did Liveris give the commencement address in Zellerbach Hall to more than 300 graduating students and their friends and families, he also wielded the scissors at the celebratory ribbon-cutting of the college's recently upgraded undergraduate teaching labs.
Thanks to DOW's generous gift of $3.5 million, in combination with significant donations from the college community, more than 2,000 Berkeley students each year will be introduced to sustainable chemistry laboratory practices and curriculum in modern, clean, well-lit labs. Before the upgrade, the 50-year-old labs were in a painful state of disrepair.
The effort to create the new DOW Sustainable Chemistry Laboratories was shepherded by David Kepler, college alumnus and Dow's executive vice president for business services, Chief Sustainability Officer and Chief Information Officer.