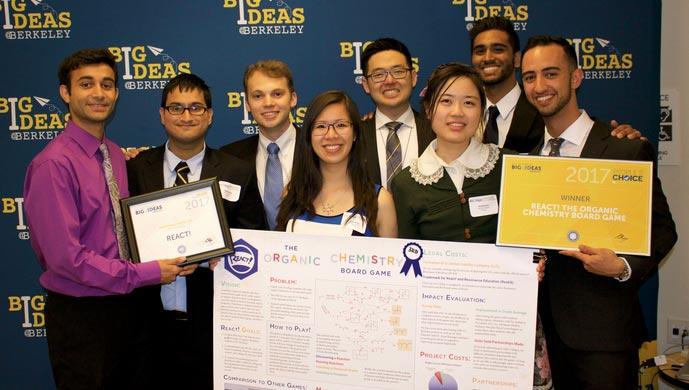 Our students are amazing in the Chemistry and Biology departments. They become world class researchers, go on to start life-changing companies and so much more.
But they are also thoughtful and inventive! Thus the creation of React!™, a new board game that is the brain child of a group of UC Berkeley chemistry tutors to help students solve organic chemistry problems.
As tutors, they have seen hundreds of students gain confidence by solving organic chemistry problems using a game solving format. Over time, they have turned this concept into a board game which is now on the Berkeley crowdfunding site to raise money for its manufacture.
According to the site, React!™ is a revolutionary multiplayer game that can help anyone learn college-level organic chemistry. It is made for students, by students.
Players buy and trade chemicals, discover and perform reactions, and create special molecules. React!™ makes learning organic chemistry fun by turning it into a challenging, yet rewarding puzzle instead of having to memorize confusing facts.
It's also has a wonderful retro board game look and is a great way to help students from high school through college undergraduates learn the fundamentals of organic chemistry.
This is a remarkable idea, created by a talented group of UC Berkeley Chemistry students. The funding team wants to raise $10,200.00 to ship 200 board games to California schools.
Please support them and donate today.