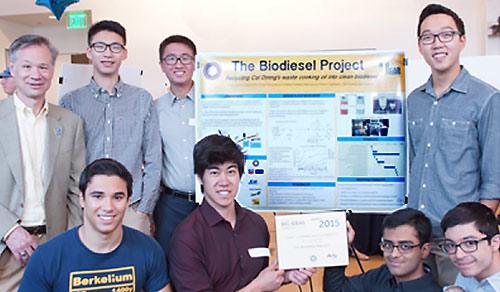 A group of Chemical and Biomolecular Engineering students won a second place award in UC Berkeley's Big Ideas competition.
Andrew Cho, Christiaan Khurana, Xingkai Li, William Mavrode, Apurva Pradhan, Jingting Wu and Jay Yostanto won 2nd place and a cash award of $4,000 in the Clean & Sustainable Energy Alternatives category for their biodiesel project. The group was mentored by chemical engineering consultant Bill Buchan (B.S. '85, Chemical Engineering; M.S. '88, Civil Engineering; M.B.A. '05.)
The goal of the project is to provide the campus with a sustainable means of acquiring biodiesel as a cleaner, alternative energy source for use in vehicles and equipment. This will be accomplished through the recycling of waste cooking oil from local campus dining facilities.
Says group member Yostanto, the president of the UC Berkeley student chapter of the American Institute of Chemical Engineers, "We met up last spring after half of the group wrote a project proposal for our CBE 185 class on biodiesel production from waste cooking oil and we wanted to go deeper into the project to make it a reality."
Big Ideas@Berkeley is an annual contest aimed at providing funding, support and encouragement to interdisciplinary teams of students who have "big ideas." Since its founding in 2006, Big Ideas@ Berkeley has inspired innovative and high-impact student-led projects aimed at solving problems that matter to their generation. By encouraging novel proposals and then supporting concrete next steps, Big Ideas is helping contest winners confront some of the world's most daunting problems.