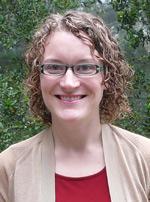 Chemical and Biomolecular Engineering lecturer Shannon Ciston has been selected to attend the National Academy of Engineering's Frontiers of Engineering Education (FOEE) Symposium. The sixth FOEE Symposium will be held October 27-30 in Irvine, CA, at the Beckman Center of the National Academies of Science.
The symposium is designed for faculty members who are developing and implementing innovative educational approaches in a variety of engineering disciplines. They will come together for the event, where they can share ideas, learn from research and best practice in education and leave with a charter to bring about improvement in their home institution.
Attendees will have multiple opportunities to share their innovations with others, learn from best practice, and network with colleagues. Attendees will present new approaches they are taking to classroom, laboratory, project, experiential, computer-based or other modes of preparing engineering students to work and lead in the 21st century.
Ciston currently teaches ChemE 185, Technical Communication for Chemical Engineers. She has also taught ChemE 40, Introduction to Chemical Engineering Design, and ChemE 300, Professional Preparation: Teaching Chemical Engineering.
She earned her B.S. in Chemical Engineering at the Illinois Institute of Technology in 2004, and her Ph.D. in Chemical Engineering at Northwestern University in 2009. She has been a CBE lecturer since 2011.
More Information