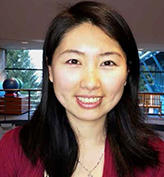 Dr. Yu Bi, psychologist with Counseling & Psychological Services, University Health Services, is available to the College of Chemistry community for drop-in counseling in B-52 Hildebrand.
No appointment is needed, just come to B-52 Hildebrand.
If you would like to set up an appointment you may either do so by yu.bi@berkeley.edu or 510-664-7723.
For any urgent concerns about students that require immediate action please call Tang Center Counseling and Psychological Services office at the Tang Center at 510-642-9494. Or utilize the walk-in counseling. The after hour (for nights and weekends) support phone services is 855-817-5677.
Dr. Yu Bi specializes in Anxiety and Depression Intervention; Career Development and Exploration; Relationship Concern; Emotional Crisis Working with Transfer Students and First Generation College Students; Helping International Students and Asian American Students.
Additional Languages: Mandarin