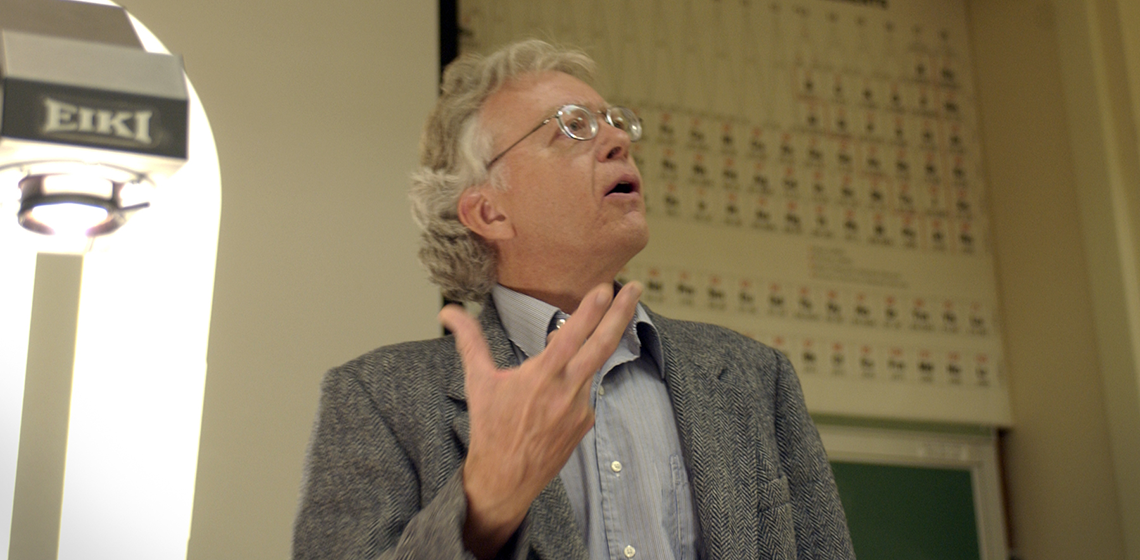 Photo: Dick Andersen presenting the Coates Lecture at the University of Wyoming in 2003. (photo courtesy University of Wyoming)
It is with great sadness that I inform you of the passing of Chemistry Professor Dick Andersen. Dick died peacefully over the weekend. He was 76 years old. 
Dick was born in Oklahoma and grew up in South Dakota. He received his Ph.D. in Chemistry from the University of Wyoming in 1973, after which he pursued postdoctoral research at the Center for Industrial Research in Oslo, Norway. He then accepted a Lecturer appointment at Imperial College in London with Geoffrey Wilkinson. Dick joined the UC Berkeley Chemistry faculty as an assistant professor in 1976. Since that time, he tirelessly pursued fundamental research in inorganic chemistry, with many notable contributions to our understanding of multiple bonds between metals and the chemistry of the lanthanide and actinide elements. He was appreciated world-wide for his encyclopedic knowledge of inorganic compounds and reactions, and he never hesitated to share it with the many students that he taught and mentored. 
Dick was a true scholar of the field, and he will be remembered by all of us as a dedicated colleague, an energetic teacher, and a good friend. He will be greatly missed.
We will provide more information as it becomes available.
Douglas S. Clark
Dean and G.N.Lewis Professor
College of Chemistry
UC Berkeley