Foundation for Excellence Campaign
---
Leadership Society Giving Levels
---
DEAN'S CIRCLES
Lewis
$100,000+
Latimer
$50,000-$99,999
Giauque
$25,000-$49,999
Seaborg
$10,000-$24,999
DONOR'S CLUBS
Wilke
$5,000-$9,999
Calvin
$2,500-$4,999
Tobias
$1,000-$2,499
Hildebrand GOLD*
$250-$999
*Only graduates of the last decade (GOLD) qualify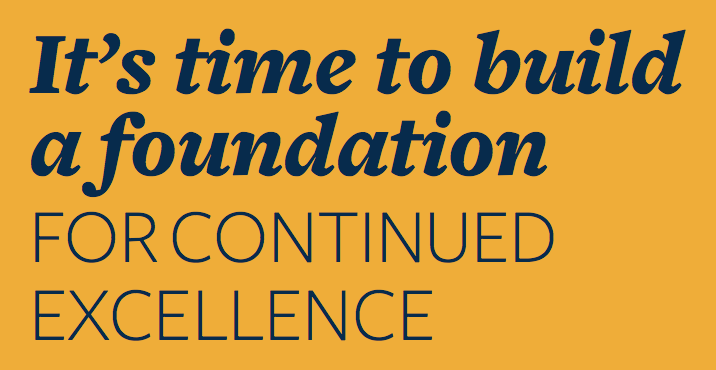 This is the world's preeminent college for the chemical sciences. But we can't rest on our laurels — or our laureates. Now is the time to establish a strong foundation to continue our valuable work, and to keep pushing forward even further.
The College of Chemistry's Foundation for Excellence Campaign seeks to do exactly that. By securing a greater, more sustainable level of financial strength, our College can enhance its excellence in every area — from providing our students with an exceptional education and experience, to modernizing our classrooms, advising centers, and laboratories, to supporting our student's and faculty's pursuits and passions.
Through three-year, leadership-level commitments of greater than $1,000*, we will more than double our College's core annual fund support to over $2.5 Million.
* Graduates of the last decade qualify at $250+

For making your own three-year, leadership-level Foundation for Excellence Campaign commitment today to our College's core annual funds, you will receive special recognition in our Philanthropic Impact Report and invitations to exclusive events. But most important of all, you will feel great knowing that you've contributed to sustaining the world-renowned reputation and excellence of our College.
Your support is essential to continuing excellence at the College of Chemistry.
ENHANCING OUR EDUCATIONAL EXPERIENCE. We continue to be ranked the #1 university in chemistry and #2 in chemical engineering, both nationally and internationally. 
CONTINUING OUR FACULTY'S GROUNDBREAKING RESEARCH. Our faculty continue to be among the most widely respected scientists in the world, including four current faculty members that are considered potential candidates for the Nobel Prize.

By making a three-year commitment at the leadership level to our core annual funds, you will enhance the excellence of our College of Chemistry for generations to come.
---
Direct your support where it's most meaningful to you
---
Department of Chemical & Biomolecular Engineering
Undergraduate Students & Programs
Diversity, Equity, Inclusion & Wellness