Dean's Report: Focusing on Program Expansion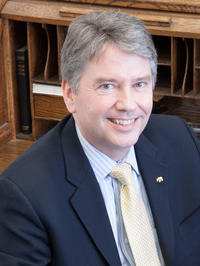 Our departments of Chemistry and Chemical & Biomolecular Engineering (CBE) rank among the most prominent in the world. According to the 2018 Academic Ranking of World Universities (ARWU — ShanghaiRanking), Berkeley is the best university in the world in Chemistry. U.S. News & World Report ranks our Chemistry program #1 globally, and the CBE Department is ranked #2 in both its graduate and undergraduate programs.
The College of Chemistry's ongoing aim is to maintain the highest standards of academic excellence by hiring and retaining exceptional faculty who are distinguished by outstanding research, dedicated teaching, and strong service. This year we welcome three extraordinary assistant professors: Kwabena Bediako and Jonathan Rittle in Chemistry and Rui Wang in CBE.
We are also working to expand our infrastructure for research and instruction while offering a multitude of academic options within our degree programs. We continue to attract outstanding students and postdoctoral scholars who will become the next-generation leaders in chemistry, chemical biology, and chemical engineering. In addition, the College has always valued creating a diverse, welcoming community and environment for graduate and undergraduate students, postdoctoral researchers, visiting scholars and student researchers, and its dedicated staff.
Our undergraduates are at the core of UC Berkeley's public mission to provide an outstanding education to the brightest students of all backgrounds, and enhancing the undergraduate student experience remains a priority for us. The revamped College of Chemistry Undergraduate Student Services now includes career counseling, student research and discovery experiences, a faculty and alumni mentorship platform, and a peer tutoring program. We are proud to provide our undergraduate students with a "small college" experience within a large university setting.
In order to maintain our worldwide leading reputation and achieve our long-term goals, the College is embarking on collaborative initiatives on campus that include construction of a new building in partnership with the College of Engineering and the College of Natural Resources. Our values include both public service and entrepreneurialism, with an eye toward successfully commercializing innovations that emanate from interdisciplinary collaborations with our worldwide industry and academic partners. Through this vision, the College of Chemistry is working to bring ideas and products to market, ultimately fulfilling our goal of making the world a healthier, better place.
We ask you to join us and support the extraordinary UC Berkeley College of Chemistry.
Douglas S. Clark
Dean, College of Chemistry
University of California, Berkeley