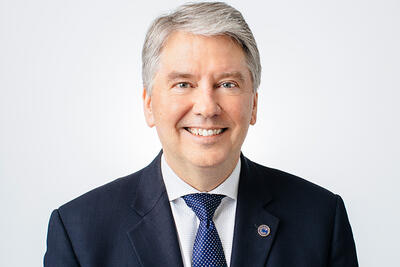 Dear Supporters of the College of Chemistry,
It is so wonderful to see students bringing life to campus again after eighteen months of isolation. In some ways, we've picked up right where we left off; in other ways, there's been a permanent shift in the routine of our daily lives. Whatever the case, the back-to-school mood in the College of Chemistry remains exciting, hopeful, and encouraging. This enduring optimism for novel collaboration and advancing world-class chemistry and chemical engineering research is made possible by your generous philanthropic support.
We continue to make good progress towards funding Heathcock Hall, a modern teaching and research facility named in honor of former dean Clayton Heathcock that will define the campus's eastern entrance and gateway to the chemistry complex. Pioneer Material Precision Tech (PMP Tech), a Taiwan-based manufacturer of elastomers and other rubber products for consumer electronics, recently made an extraordinary $10 million commitment to help construct the world- class facility. We seek additional partnership – with a special focus on supporting research leading to disease prevention, climate sustainability, and new-age materials — to ensure that we fully fund this essential capital project in the coming year.
The college received a number of notable donations this year from both individuals and corpora- tions. Chemistry Professor Emeritus Sung-Hou Kim and his wife, Rosalind Kim, became Builders of Berkeley members this year, donating $1M over time. Alumni David Gee and David Lieu established the Summer Bridge program, which had its first cohort this year. We secured four corporate sponsorships — from Chevron, Merck, Lam Research, and Applied Materials--totaling $25,000 to help expand the Chemistry Alumni Mentorship Program, which will provide alumni mentorship
to 50+ undergraduate transfer students this year. You can read about these wonderful gifts and more in greater detail in the following pages.
Two new faculty joined us in July: Professor Joelle Frechette, working in the area of adhesion and materials design, in the Department of Chemical and Biomolecular Engineering, and Assistant Professor Brooks Abel, working in the area of polymer design and synthesis, in the Department of Chemistry. Thanks to your generous giving, we were able to ensure that they hit the ground running as they establish their labs at Berkeley.
Since my last update, the college has welcomed Chief DE&I Officer Brice Yates to the chemistry community. Brice has assembled an advisory committee including students, faculty, staff, and alumni, and together they have completed our college's first Diversity, Equity, Inclusion, and Belonging Strategic Plan (chemistry.berkeley.edu/diversity). This five-year plan identifies several key DE&I initiatives that will greatly benefit from philanthropic support in order to come to fruition.
Always looking ahead, we are eager to commemorate the College of Chemistry's 150th anniversary in 2022 with a 150th Anniversary Celebration event in the spring and a celebratory fundraising campaign. I continue to be grateful beyond words for the essential role that philanthropy has played in making the college the best place to be for chemistry and chemical engineering research and education in the world.
Douglas S. Clark
Dean, College of Chemistry
Gilbert N. Lewis Professor