DEAN'S REPORT
Setting our Future Course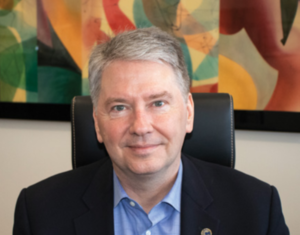 As you may know, Berkeley today is the #1 Global University for Chemistry (2019 U.S. News & World Report), continuing our long-standing history of excellence in chemistry and chemical engineering. For 147 years, the College of Chemistry has been pushing the boundaries of chemistry research, advancing society and technology, and reaching solutions to the most urgent issues of the times.
I am thrilled to announce that fiscal year 2019 was our most successful fundraising year ever, having raised a total of $31+M in gifts and pledges, a total of $17+M in gifts and payments, and a total of $2+M to our core unrestricted annual funds from 1,424 donors. This success will set us on a course to realize our plan of a new chemistry building. A preliminary analysis for a new building was recently completed by the global design, architecture, engineering, and planning firm HOK. Aesthetically, we envision a more inviting eastern framing of the Chemistry Plaza, modernizing and completing the framing of the East Gate Entrance. The plaza level floor will focus on instructional space, including a large lecture hall and small seminar/discussion rooms.
The College has a rich history of hiring and retaining world-leading faculty who are committed to groundbreaking research, distinguished teaching, and strong service to the community. To that end, we are delighted to welcome four new faculty members to the College this year who epitomize our research, teaching, and service mission: Michael Zuerch, Assistant Professor of Chemistry; Karthik Shekhar, Assistant Professor of Chemical and Biomolecular Engineering; Alanna Schepartz, Professor of Chemistry; and Polly Arnold, Professor of Chemistry.
We all value a diverse, welcoming community environment for graduate and undergraduate students; postdoctoral researchers; visiting scholars and students; faculty; and staff. Efforts in the College continue to build on our current foundation and work toward this important goal. We are proud to provide approximately 1,000 undergraduate students with a "small college" experience within a large university setting where our faculty and graduate students work hand-in-hand with undergraduate students in classrooms and laboratories. Additionally, our graduate students are actively involved in connecting with and engaging the next generation of scientists through science and engineering volunteer role model programs, such as Bay Area Scientists in Schools (BASIS) and Community Resources for Science (CRS).
With your continued support, the College of Chemistry will remain the world leader in teaching, research, and service in the chemical sciences.
Thank you for your generous contributions.
Douglas S. Clark
Dean, College of Chemistry
Gilbert N. Lewis Professor